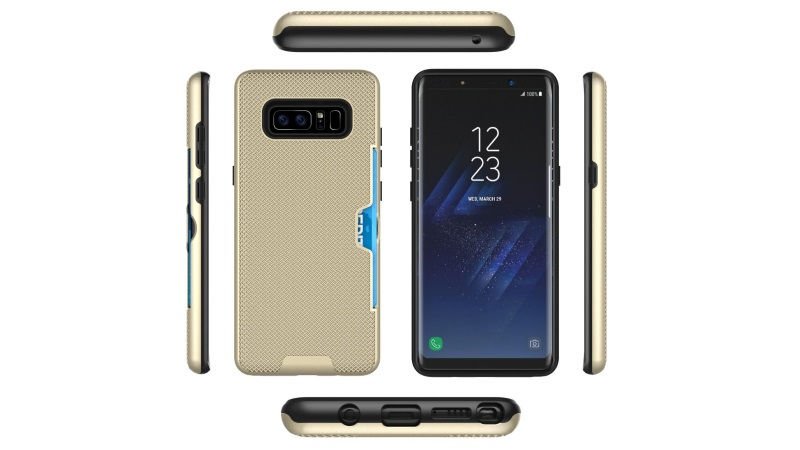 Samsung Galaxy Note 8 leaks are increasing from a steady pace as its launch date is approaching. Just a few days ago we had heard about the positioning of its fingerprint sensor from a CAD tweeted by the CEO of smartphone case maker Slickwraps, and now we've come to see another leak in form of promotional material for Galaxy Note 8 cases. This time, however, the leak is more comprehensive in details and shows the possible view of device from all sides.
The leak is in form of an image, which was recently tweeted by user ZyadAtef12. The image tweeted by him shows the possible look of Galaxy Note 8 from all sides, including top, bottom, left and right. The front of device shown in image depicts company's trademark Infinity display, similar to the one that's seen on Galaxy S8. However, the highlight exists on back in form of a horizontally aligned dual-camera setup. The fingerprint sensor is also there, but this time it's far from the camera lenses as flash module and heart rate monitor have been stacked in between of them.
Coming to the sides, the phablet can be seen having a power button on right side and volume buttons on the left side. The dedicated Bixby button is also on left side, and there's also a 3.5 mm headphone jack in device.
While this design looks inline with previous leaks and has originated from a case manufacturer who might've been provided a dummy Note 8 in advance to do its job, I'd advise that you take it with a pinch of salt. Nothing is confirmed until it's launched, but there's a good chance that what has to be launched is going to look like this.
In case you don't remember, Galaxy Note 8 is expected to come with a Snapdragon 835/Exynos 8895 processor depending on market, 6GB of RAM, 12MP dual primary camera and 3,300 mAh battery. The smartphone is rumored to launch in September ahead of Apple's mega iPhone launch.