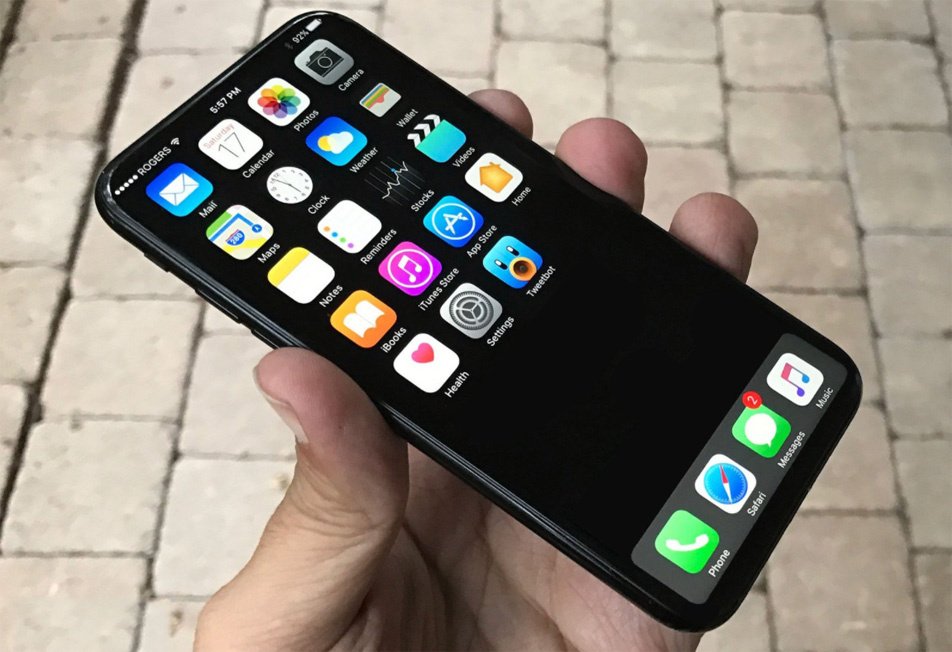 Apple's iPhone 8 worries are not showing a sign of slowing down. After reports of difficulties in embedding the fingerprint sensor inside display, now company's facing problems with its rumored wireless charging and face recognition features as well. And interestingly, the problems are not that of hardware but of software. That's true – it's company's own affectionate iOS 11 that doesn't seem to be ready for the heavy lifting!
According to a latest report published by Fast Company, there's a sense of panic in the air of Apple's Cupertino campus nowadays among teams of engineers and designers that are developing iPhone 8. The launch schedule is approaching, and the pressure on their heads is mounting. They have to fix all the major issues related to iPhone 8 as soon as possible so Apple can ask Foxconn in China to start manufacturing the device. If software problems are not fixed quickly, the company may be forced to launch the device with its biggest highlight features turned off!
What will happen in that case is that company will ship its 10th anniversary iPhone with new hardware packed inside it for the latest features, but that hardware may not be active initially. The hardware may start working only after an update from Apple in next few months.
Precedents for this scenario are already present. iPhone 7 Plus came with hardware required for Portrait Mode feature of camera, but since software wasn't ready, the feature was kept inactive at the time of iPhone's availability. It was only later that the feature was enabled by company through an OTA update.
The Cupertino based giant, according to Fast Company, is facing trouble with 3 new features. One of them, as we already know, is fingerprint sensor. The other two are wireless charging and 3D face detection. Let me tell you in detail what're the issues with all these features:
Fingerprint sensor
While it was rumored that company was going to replace it with a combination of face recognition and iris scanning, the problem with doing that is the fact that current TouchID mechanism is truly tested and well-established way of securely authenticating payments from Apple Pay. Replacing such a well-tested security technology with a new largely untested authentication method for something as sensitive as financial information isn't a very wise thing, and consequences can be serious if Apple's new authentication system fails to protect the financial info stored in Apple Pay accounts of its millions of customers. Perhaps for that reason fingerprint sensor is not entirely gone yet from iPhone 8 and company is still looking a location for it. The Fast Company source told them that there's still a chance that company may somehow figure out how to embed the sensor inside display.
Wireless charging
Second problem is with wireless charging. According to Fast Company's report Apple has adopted a variant of Qi (pronounced "chee") wireless charging standard for its iPhone 8, and it's sourcing the wireless charging hardware from a company named Broadcom. The problem is not with hardware supplied by Broadcom – had that been the case, Apple would've sourced the hardware from some other manufacturer. The problem is with Apple's software that's not integrating properly with the new hardware.
3D Sensor
Similar problem is with 3D sensor as well. The sensor has to be front-facing and used for face recognition, and once again the problem is with software. The company is reportedly struggling to make its iOS 11 work properly with this sensor.
The production schedule of iPhone 8 was reportedly also pushed behind due to adoption of OLED display technology. There're not many manufacturers of OLED display panels in the industry as of now, and Apple's plans of setting its own OLED display manufacturing facilities are going to take some more time. So, for this iPhone company had to source the displays from someone else, and it has once again found that partner in its biggest rival Samsung. After consideration of all other existing players in OLED market it's this Korean giant that's supplying the company with OLED displays for iPhone 8. And now it seems that after overcoming all these challenges the flagship product of company may still have to be launched with major features turned off!
The software problems are getting further amplified with the ticking of clock. Apple is racing against the time, and it's way behind in the race if these complicated issues have still not been solved. But we can never be so sure about it – it's a company with some of the brightest minds in the world so it can pull things off at any minute.
In any case, iPhone 8 is still going to be huge. It'll be a significant departure from all iPhones launched till date because it'll incorporate many big features which have never been a part of any iPhone till now. Big changes like this generally require more time to be perfected, so even if these features come inactive at the time of launch, that should not be a reason to ditch the iPhone 8.